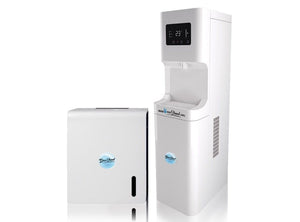 Coming Soon
Water from Air Dispenser
The DewStand Model DSQ-1M Atmospheric Water Generator (AWG) is suitable for a larger household or small commercial application. Hot & cold pure water output of up to 18 Gallons per day at 85 °F & 80 % Humidity.
Unlike any other DewStand, this model is designed as a a split system allowing the water generation unit to be located up to 16 ft away from the water dispenser.
The rated capacity will vary with humidity and temperature. Higher Temperature and Humidity levels result in higher output.
Below are technical operating parameters and features:
          18 GPD (70 l/day)
Water temperature:

42-198

°F

 

(6

-92 ℃)
Working temperature:

59-113

°F

 (

15-45 ℃)
Working humidity:

25-95 %
Treatment Steps:

Advanced Purification Technology including a sequence of U.V. Sterilization, a series of Sediment and Carbon Filtration, Ultrafiltration Membrane & TCR
          5.5 Gallons (45.5 Liters)
          (i.e. 1.5 L  Dew, 30 L + 11 L Pure,  1.5 L Cold & 1.5 L Hot Water) 
          700 W (Production)
          80 W (Cooling)
          500 W (Heating)
          Only 220 V, 50 Hz available at this time
          R134a
Hot & Cold Pure Water Output
LCD Touch Screen Display including Total Dissolved Solids reading (TDS) and Water Yield
Indoor Lifestyle and Low Noise Levels (i.e less than 45 db)
Modern and Trendy Appliance Design
 Dimensions & Weight:
Dimensions

Gross (Shipping):

Water Dispensing Unit: 17.3 in Width x 22 in Depth x 55 in Height

(44 cm x 56 x cm x 140 cm)

Water Generation Unit: 22 in Width x 17.3 in Depth x 36.6 in Height

(56 cm x 44 x cm x 93 cm)

Net (Installed):

Water Dispensing Unit: 11.8 in Width x 17.7 in Depth x 45.4 in Height

(30 cm x 45 x cm x 115.4 cm)

Water Generation Unit: 18.1 in Width x 11.8 in Depth x 28 in Height

(46 cm x 30 x cm x 71 cm)

Weight

Gross (Shipping): 45 Kg + 45 Kg

Net (Installed): 30 Kg + 34 Kg