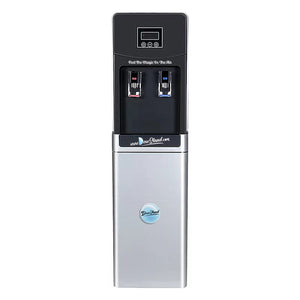 Water from Air Dispenser 
The DewStand-B Atmospheric Water Generator (AWG) is a perfect addition to any home or work place. Hot & cold pure water output of more than 5.5 Gallons /day at 85 °F & 80 % Humidity.
The rated capacity will vary with humidity and temperature. Higher Temperature and Humidity levels result in higher output.
For example, this DSB-1F model will smoothly produce more than 1.5 Gallons per day of Pure Drinking Water even if your indoor temperature and humidity levels drop to 68
°F and 50% respectively
. At 20% humidity, The DewStand DSB-1F will still produce more than half a gallon of water.
Below are technical operating parameters and features:
          5 GPD (20 l/day)
Working temperature:

59-110 

°F

 (

15-45℃)
Working humidity:

25-85 %
Treatment Steps:

Advanced Purification Technology including a sequence of U.V. Sterilization, a series of Sediment and Carbon Filtration, Ultrafiltration (UF) Membrane & Remineralization
Storage capacity (4 tanks system):
          4 Gallons (~ 20 Liters)  
         (0.4 Dew, 2.8 Pure, 0.4 Hot & 0.4 Cold)
          470 W (Production)
          500 W (Heating)
          110 V, 60 Hz
          R134A
Preset Hot

198°F (92 ℃)

& Cold  42

°F

 

(6 ℃) Pure Water Output

Indoor Lifestyle and Low Noise Levels (i.e less than 45 db)
Modern and Trendy Appliance Design
 Dimensions & Weight:
Dimensions

 

Gross (Shipping): 15 in Width x 18 in Depth x 53.5 in Height

Net (Installed): 12.1 in Width x 14.8 in Depth x 44.8 in Height

Weight

Gross (Shipping) : 115 lb (52 kg)

Net (Installed): 92 lb  (42 kg)