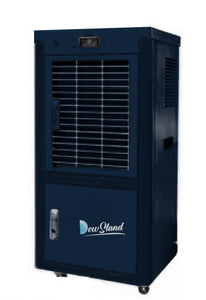 Indoor Water from Air Dispenser
The DewStand Model DSB-1X Atmospheric Water Generator (AWG) is a perfect drinking water solution for hospitals, hotels and other commercial establishments. Pure water output of up to 21 Gallons per day at 85 °F & 80 % Humidity.
The rated capacity will vary with humidity and temperature. Higher Temperature and Humidity levels result in higher output.
Below are technical operating parameters and features:
          21 GPD (80 l/day)
Working temperature:

59-95

°F

 (15-35 ℃) - Indoor Use only

Working humidity:

25-95 %
Treatment Steps:

Advanced Purification Technology including U.V. Sterilization, Sediment Filtration, Carbon Filtration and UF membrane
           Dew: 0.4 Gallon (1.5 Liters)
           Pure: 3.2 Gallons (12 Liters)
           1.25 kW (Production)

           1.33 kW (Overall)
         110 V, 60 Hz (220 V, 50 Hz available upon request)

          R410a (1.87 lb or 850 g)
Low Noise Levels (i.e less than 65 db)
 Shipping Information:
Dimensions

Gross (Shipping): 21.2 in x 27.5 in x 45.5 in

(54 cm x 70 cm x 115.5 cm)

Net (Installed): 18.3 in x 25 in x 38.3 in

(46.5 cm x 63.5 cm x 97.3 cm)




 

Weight

Gross (Shipping): 165 lb (75 kg)

Net (Installed): 143 lb (65 kg)