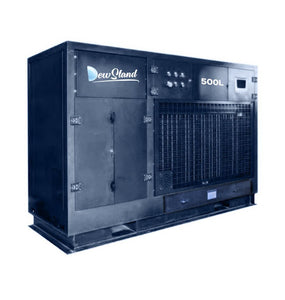 Water from Air Generator
The DewStand Model DSXL500 Atmospheric Water Generator (AWG) is designed to meet the needs of villages, factories, and off-grid settlements. Pure water output of up to 132 Gallons per day at 85 °F & 80 % Humidity.
The rated capacity will vary with humidity and temperature. Higher Temperature and Humidity levels result in higher output.
Below are technical operating parameters and features:
Rated Capacity:   
134 GPD (500 l/day)
Working temperature:
59-104 °F (15-40 ℃)
Working humidity:
35-95 %
Treatment Steps:
Advanced Purification Technology including a sequence of U.V. Sterilization, a series of Sediment and Carbon Filtration, Reverse Osmosis & TCR
Storage capacity:
          29 Gallons (100 Liters)
Power Load:
          11 kW (Production)
          12 kW (Overall)
Power Supply
         208 V, 60 Hz, 3 pH
        (380 V, 50 Hz, 3 pH available upon                    request)
Refrigerant
          R407c
LCD Display
Low Power Consumption 
Low Noise Levels (i.e less than 78 db)
Dimensions
Net (Installed): 7.7 ft x 2.7 ft x 4.8 ft
(2.35 m x 0.85 m x 1.45 m)
Weight
Net (Installed): 1232 lb (560 kg)